RESERVATION POLICIES
CHECK IN/ CHECK OUT
All of our amazing properties have the same check in and check out times!
Check in: 3:30pm
Check out: 11:00 am
*Early Check Ins and Late Check Outs are available with approval and an additional fee.
CANCELLATION POLICY
Cancel 31 days or more prior to check in date – 95% refund
Cancel 30-15 days prior to check in date – 100% credit with a $75 rescheduling fee
14 days or less prior to check in date – Forfeit entire advance payment
MINIMUM NIGHT STAY
​Fall, Winter, Spring: 2 night minimum stay on weekends, no minimum during the week.
Summer: 3 night minimum stay on weekends, 1-2 night minimum during the week.
Holidays: 3 to 4 night minimum stay depending on the holiday.
PAYMENT SCHEDULE
A Reservation Deposit equal to 50% of the total bill is due upon reservation.
Within 7 days in advance of arrival, the Remaining balance is due.
A $500.00 Damage Deposit credit card authorization is due within 7 days in advance of arrival. Damage Deposit are not initially charged before or during stay, though we reserve all rights to charge the card on file if damages occur during Renter's stay. Renter will be additionally charged or liable for any damages that exceed the Damage Deposit should damage occur to the Property
If entire property is rented, final payment is due one month prior to arrival.
PET POLICY
Although we LOVE our fur babies, we can not permit them at all of our properties.

Pet Friendly Properties: The River Road Treehouses; The Salado Inn; Black Bear RV Park & Resort; Rocky Top River Ranch and The Weinert House
*Contact Reservations for Pet Fee
Non-Pet Friendly: Geronimo Creek Retreat, The River Road Sky Cabins

If you have a Service Animal (NOT an ESA) and they will be accompanying you during your stay please call us at 888-808-0460 and we can make the notation to your reservation!


OTHER POLICIES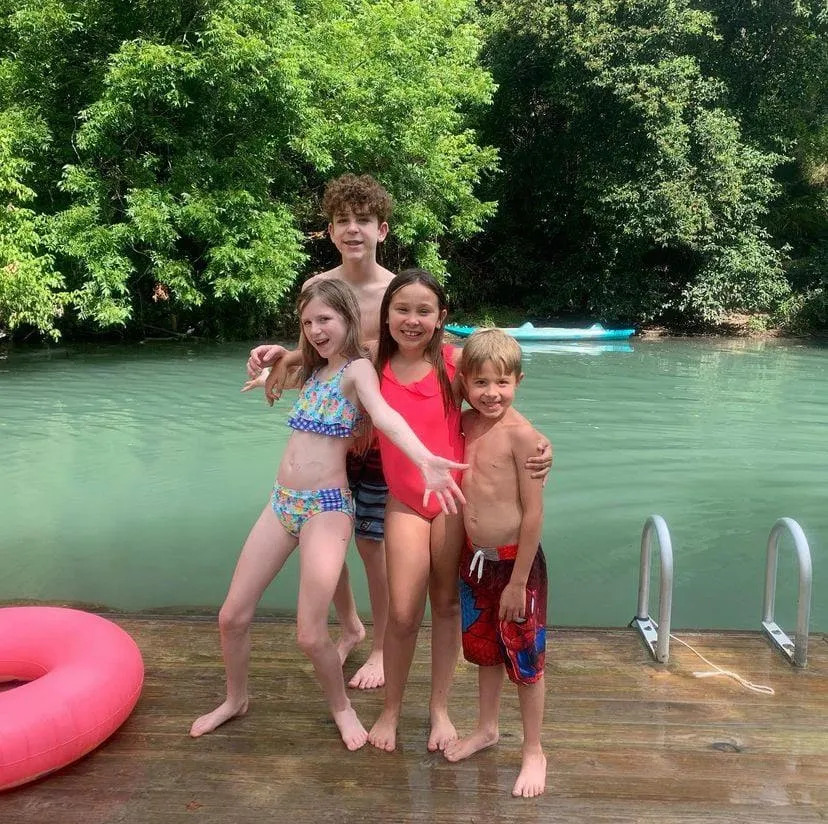 DAMAGE DEPOSITS NOT CHARGED
Your credit card on file for the Damage Deposit or check will not be charged for damages if:
No damage is done to the Property or its contents, beyond normal wear and tear.
No charges are incurred due to contraband, pets or collection of rents or services rendered during the stay.
All debris, rubbish inside and outside of Unit is discarded and placed in garbage cans.
All dishes are washed and put away prior to departure.
All keys are left in the lockbox and unit is left locked.
All charges accrued during the stay are paid prior to departure.
No linens are lost or damaged.
No early check-ins or late check-outs were made (unless approved by management).
The Renter is not evicted by the Management (or representative of the Owner), including but not limited to local law enforcement.
There has been NO SMOKING in the Unit. If we find any evidence of smoking inside the home, the Responsible Party will be charged $200 (two hundred dollars) minimum.
USE AND OCCUPANCY
Renter may use the Property as a private residence only. While we understand that you may have additional guests over, no parties, large groups or additional overnight guests are allowed. Exceeding the maximum occupancy or having parties/large groups at the property will be reason for eviction without reimbursement of rents and deposits. The total number of guests or Maximum Occupancy allowed by Renter to occupy or use the property are as follows:
PARKING RULES
Renter may not exceed the max amount of vehicles allowed per unit including but not limited to automobiles, trucks, trailers, motorcycles, jet skis and boats unless authorized in writing by Landlord. Renter may not park or permit any person to park any vehicles on grass.
SAFETY AND CHILDREN
Safety and security is the sole responsibility of the renter. Property owner(s) or Best Travel Management assume no responsibility or liability for the safety or security of the guests, or for injury caused by the criminal acts of other persons. In case of danger or potential damage to persons or property, call 911. The properties have not have been made "child-safe," as various cleaning agents, knives, and other normal household items may be within the reach of small children. Please be aware and cautious with your little loved ones.
LIABILITY
Landlord is not responsible to Renter, or Occupants for any damages, injuries, or losses to person or property including but not limited by fire, flood, water leaks, ice, snow, hail, winds, explosion, smoke, interruption of utilities, theft, burglary, robbery, assault, vandalism, other persons, condition of the Property, or other occurrences or casualty losses. Renter will promptly reimburse Landlord for any loss, property damage, or cost of repairs or service to the Property and Unit caused by Renter, Occupants, and unauthorized occupants or pets.
PRIVACY POLICY
We are committed to protecting your privacy. Any information given to us will be used for the sole and express purpose as originally requested. We do not sell our customer information to anyone. Our giving systems are continually being improved and upgraded to use the best, secure, encrypted technology to process your transactions safely and securely.
We reserve the right at all times to disclose any information as necessary to satisfy any law, regulation or governmental request, to avoid liability, or to protect our rights or property. When you complete forms online or otherwise provide us information in connection with the Service, you agree to provide accurate, complete and true information. You agree not to use a false or misleading name or a name that you are not authorized to use. If we, in our sole discretion, believe that any such information is untrue, inaccurate or incomplete, we may refuse you access to the Service and pursue any appropriate legal remedies.
This website may contain links to other sites on the internet that are owned and operated by third parties.
You acknowledge that we are not responsible for the operation of or content located on or through any of these sites. Use of these sites is completely at your own risk. If you access and use this website outside the United States you are responsible for complying with your local laws and regulations.
NO DAILY MAID SERVICE
While linens and bath towels are included with the Unit, daily maid service is not included in the rental rate, however it is available at an additional rate and request. We suggest you bring beach towels. We do not permit towels or linens to be taken from the Unit under any circumstances.
GUADALUPE RIVER AND GERONIMO CREEK
The Guadalupe River and Geronimo Creek are beautiful natural attractions, but are subject to occasional wet-weather flooding during heavy rains. The living areas of the Unit are built above the flood-way though the parking way may not be. For your safety, you may be asked to evacuate the Property if there are impending flood watches or warnings in the area. We monitor this situation closely and will give as much notice as possible to you if this situation becomes a reality and ask that you help us in monitoring the situation. Obviously, this occurrence is rare and will not likely affect your stay.
The Guadalupe River and Geronimo Creek are natural bodies of water and therefore do not have many of the safety features found at a man-made pool such as but not limited to:
a. There is no fence or barrier restricting persons from entering the water, no depth signs, nor any life guards on duty.
b. Under water hazards may exist and swimming is at your own risk.
OTHER RULES
Fireworks and open flames are prohibited. Outdoor grilling and marshmallow roasting is allowed only in designated pits.
Noise must be controlled with no loud music, loud talking, or excessive noise after 11:00 p.m.
Please be respectful of the neighboring cabins/Units and guests as well as neighbors and their property. No trespassing on neighboring properties, it is strictly forbidden.
Air conditioning should not be set lower than 70 degrees to avoid freezing the units.
Our septic system is sensitive! Do not put paper towels, hygiene items, diapers, grease chemicals, or other harsh items in the toilets or drains due to septic system and Comal County requirements.
CONTACT US
Get in Touch!
We'd love to hear from you!
Have a question about our services? Want to see if your particular vacation is one we can help with? We'd love to hear from you!